Rabart Spray Centre Cwmbran
About the Spray Centre
Rabart Spray Centre in Cwmbran and Plymouth are Graco-authorised repair centres. Our fully trained engineer, Paul, has over 14 years experience as a Graco-certified technician. He has sold, serviced and repaired hundreds of machines and knows them inside and out. Before becoming a Graco expert, Paul was a mechanical fitter in the steelworks industry for 12 years.

We believe that the Graco models are the best in the market, which is why we are classified as a "True Blue" Graco centre – this means we focus on just the Graco range.

At the Rabart Spray Centre, you will find:
- Graco Airless spray machines- Graco HVLP (High volume low pressure)
- Training in our dedicated training facility including a meeting room and spray room
- Servicing and maintenance in our spray centre workshop (service and repair for Graco, Wagner, Titan, TriTech and Q Tech Machines)

Every Rabart branch will be able to assist with your enquiries about Airless or HVLP spraying if you are interested in just getting started, or are a seasoned spraying pro.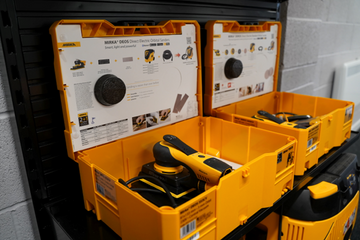 Opening Hours
Monday to Friday: 7:00am to 5:00pm
Saturday: 8:00am to 1:00pm
Sunday: CLOSED

Contact Details
01633 480 192
Opening Hours
Monday to Friday: 7:00am to 5:00pm
Saturday: 8:00am to 1:00pm
Sunday: CLOSED

Contact Details
01752 256 356

Graco certified service and repair centre.
Graco invented the first portable airless paint sprayer over 60 years ago, and they've been innovating ever since to deliver the highest performance and maximise productivity.
Graco airless paint sprayers are designed and built in the United States of America, using the highest quality parts and backed by an industry leading warranty.
All Graco sprayers are 100% factory-tested and field-proven, so you can be sure your money is going towards the best professional paint sprayer you can purchase.
There are Graco sprayers suitable for small residential work up to the biggest commercial projects – so there are suitable options for a decorator to the largest contractors.
Our very own Graco expert, Paul, says choosing the right machine is "all about what you want to do, and how often you want to do it". We're here to help you pick the right equipment for the work you're doing, and how frequently you need to use it.