Colour Ranges, Mixing And Matching
With colour mixing and matching technology in all our stores, the range of colours we can offer you is almost limitless, and with our in store colour consultants on hand, we can help you create the look you want.
By tinting colours, we can offer you a greater range of colours than would be possible if we had to carry every colour pre-mixed in store, allowing you to pick the colours that are right for you and in the finish that suits your requirements.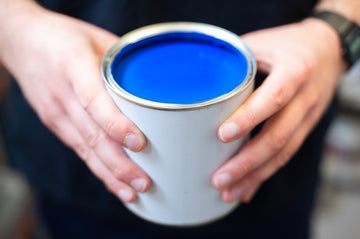 Which Paint Colour Systems Are Available At Rabart?
As well as supplying a vast range of branded colours from our suppliers, there are three main colour systems used within the painting and decorating industry:

British Standard (BS), RAL Colour System and Natural Colour System (NCS), all of which are available in store.
British Standard (BS)
The BS system is one of the most popular colour ranges available, with the BS4800 range having been put together from the BS 5252 framework of colours that was specifically put together for the building industry. BS Colours are widely specified in the UK.
Natural Colour System (NCS)
The NCS colour system (most commonly referenced in architecture and design) is a range of 1,950 standardised colours which is recognised worldwide and was designed to describe colours exactly as we see them - independent of language and culture.
RAL Colour System
The RAL colour system is used for defining colours and paint coatings, and is most popular in Central Europe. It is is widely used in architecture, construction, industry, and road safety.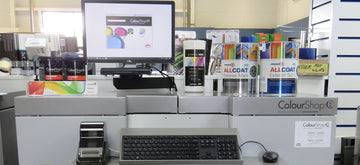 What Is A Colour Matching?
All our stores offer colour matching facilities using colour spectrophotometers ("Magic Eye") and we can mix colour in Crown Trade, Mcpherson, Dulux Trade, Armstead, Mythic Paints, Zinsser, Bradite, Little Greene Paints, Paint and Paper Library, Sadolin and Cuprinol Woodstains.  We also carry other premixed colours in a variety of brands.
There is no charge for this service it's just what we do!
What Do I Need To Bring Do This?
Simply bring a sample of the colour you want to match into your nearest Rabart Decorating Centre and one of our in-store paint experts will scan this into our colour tinting machines. The machine will then either match the colour by create a new 'recipe' just for you, or suggest the closest existing colour according to a percentage match, giving you confidence in its accuracy.
Customers typically, bring in wallpaper cuttings, curtain swatches, cushions, clothes, or other household items. Please note the object needs to be at least the size of a 50p coin or larger to get an accurate match.
There are some limitations to this service and certain material and colour tones scan better than others. Metallic items are harder to match because of the sheen as the computer has a hard time compensating for the reflection. Also, it is difficult to pick out a colour in a busy pattern.
To help with the colour selection we offer free colour cards and swatches from our suppliers that you can take away, as well as a limited selection of sample pots that you can brush out in store.

You can also buy sample pots that we can either mix to your chosen colour, or we offer a range or pre-mixed colours that you can take away and test in situ, giving you the best indication of what the colour will look like.
If you are looking to stain or finish wood we are more than happy for you to bring along a sample piece to the store so we can brush out some samples for you to see.
Please note:
Matching and selecting colours using colour cards or a colour spectrophotometer ("Magic Eye") can be very effective, and every effort is made to get this as close to the colour required, however, there may be slight variations in the colours mixed and therefore all scanned colours are sold on the basis of being a "similar" colour to the item scanned. This can be the result of differences between the pigments in the paint from wet to dry, and those used in the original colour. The finish of the paint and the surface on which it is painted (sub straight) and variations in lighting that can also give the colour a different feel and appearance when applied in situ. Therefore in relation to colour mixing the use of terms such as "excellent and good" are subjective terms and we would always recommend that wherever possible you purchase a tester pot to establish that the colour meets your requirements, as regretfully colours mixed to customer's specific requirements cannot be returned.
What is a Colour Spectrophotometer?
A spectrophotometer. It's a device about the size of a shoebox that's hooked up to a computer. It measures colour electronically. There's a port on one end that shines a light on the object, or whatever sample you bring us. It takes a very sophisticated reading of each wavelength of light reflected off the object and calculates the exact amount of various pigments it will take to make a colour match. The tinting machine then creates a colour recipe that is added to a base to create your colour.