About Us
As a major distributor of decorating materials, our aim is to provide you with the products to meet all your decorating needs, with the very best support and customer service to get the job done.

Help & Advice
Our experienced in-store teams are happy to help and advice on products, and we have trade representatives covering all our areas, offering sales and technical advice.
Plus, with our industry links, we can help with getting suppliers to provide specifications and specialist advice where required.

In-Store Services
Every branch carries an extensive range of products so we should have what you need in-store, including specialist products for those problem jobs.
We also have the latest colour matching facilities, which enable us to match and tint a wide spectrum of colour and you'll find wide range of designer paints and wallpapers.

All our team member can assist with colour selection, however at certain stores, we employ fully trained paint, paper and colour consultants who can help you make the right choices for your home.
Our consultants can also advise on made to measure service, including curtains, blinds and shutters (please check store
locations for further advice).

Trade Accounts
We offer Cash Accounts (Pay As You Go) to trade or business customers, or subject to credit references and our terms & conditions Credit Accounts.

All our branches are linked so no matter where you open your account, we can service your requirements.
Our systems can also seamlessly handle paint through Crowns Indirect Supply
(IDS) so if your business has these terms with Crown Paints, we can still service this element of your business whist maintaining your agreed prices.
Whatever your decorating needs you can be assured of receiving the service you require with the range of products that only an independent merchant can offer.
Plus we offer a call off services for bulk orders.

Call And Collect Service
Simply place your order by phone, fax or email in advance and we will contact you by return to confirm your goods are ready and waiting.

Delivery Service
A cornerstone of our business from day one has been our delivery service and we are more than happy to deliver materials to your premises or work site. Please contact your nearest branch for local details and delivery times.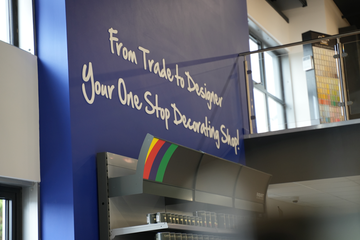 "Excellent and exceptional customer service! I wanted some paint for my garage door, the colour was spot on, just what I envisioned. We were advised of the paint that would be suitable and fit for purpose. We were extremely impressed with the quality and coverage of the paint recommended. Very deserving of 5 stars!!"
"Great store for any decorating supplies my go to store."
"Definitely the best paint supplier that we have visited. Not only are the staff friendly, they certainly know their stuff - in our last visit we were recommended a paint manufactured in Finland which our decorator said it was probably one of the best paint.he had used for some years. Even better this paint was similar in price to the paint you would find in your local
Wickes or B&Q"
"Called in to get some advise and prices on paint , couldn't believe how helpful and knowledgeable the staff were, they were very busy , but still found time to help me choose some colours , will be the only place I buy my paint from in Bath from now on."
"Very helpful and able to give me advice without man-splaining or being patronising. Large range available and able to order anything not in stock.
Not just for trade."
"You will not believe the ranges of paints available in this one place. A serious paint shop for those that need a serious choice for their paint. Helpful staff thrown in."