Delivery Has Always Formed A Cornerstone Of Rabart's Service.
We appreciate that it is often not possible for many of our customers to call at one of our stores to collect materials in person, therefore getting the goods delivered directly to your place of work can save you both time and money.
Thats why each of our branches offer a fast local delivery service with their own delivery van.
Our delivery network can easily service South, West & Mid Wales and the South West of England, and we are more than happy to look at delivering to other areas outside of this by request. 
Orders may be placed at any branch, but it is best to contact either the branch you deal with directly on a regular basis, or the one nearest to the delivery location to obtain detailed information.
As always we try to accommodate your needs and next day or where possible same day delivery are not outside our service capabilities.
However the more notice you give us the better, especially if you have specific requirements. 
Ideally we are looking for orders to be placed at least the day before delivery is required to ensure we can get the goods to you on time.
Stock items can usually be dispatched with in 24hrs however special order will have to be received at the branch first, however as we receive regular deliveries through the week from our suppliers we aim keep this turnaround to a minimum.
For more information on delivery in your area please contact your local branch.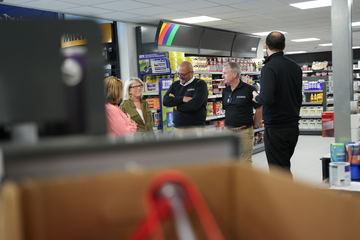 "Excellent and exceptional customer service! I wanted some paint for my garage door, the colour was spot on, just what I envisioned. We were advised of the paint that would be suitable and fit for purpose. We were extremely impressed with the quality and coverage of the paint recommended. Very deserving of 5 stars!!"
"Great store for any decorating supplies my go to store."
"Definitely the best paint supplier that we have visited. Not only are the staff friendly, they certainly know their stuff - in our last visit we were recommended a paint manufactured in Finland which our decorator said it was probably one of the best paint.he had used for some years. Even better this paint was similar in price to the paint you would find in your local
Wickes or B&Q"
"Called in to get some advise and prices on paint , couldn't believe how helpful and knowledgeable the staff were, they were very busy , but still found time to help me choose some colours , will be the only place I buy my paint from in Bath from now on."
"Very helpful and able to give me advice without man-splaining or being patronising. Large range available and able to order anything not in stock.
Not just for trade."
"You will not believe the ranges of paints available in this one place. A serious paint shop for those that need a serious choice for their paint. Helpful staff thrown in."