Rabart Swansea
Store Details
Opening Hours
Monday to Friday: 7:30am to 5:00pm
Saturday: 8:00am to 4:00pm
Sunday: CLOSED

Contact Details
01792 572 900
About Our Store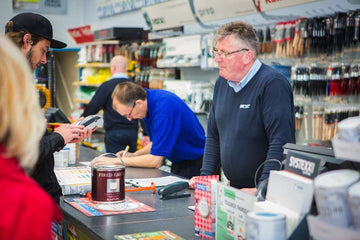 Rabart Decorating Centre in Swansea has moved previously on two occasions and we can now be found on the very busy Cwmdu Industrial Estate. We stock a huge range of quality decorating products including specialist paints, wood care products, designer paints, wall papers, fabrics, brushes, rollers and much much more.
We are basically a 'one stop shop' for your decorating needs and we are open to everyone.

Whilst we deal with allot of trade customers from our Swansea branch, we also have a designer retail area, where all customers are invited to sit and browse through Interior Design magazines, colour cards, fabric and wall paper books. Unlike in most major high street outlets, our staff in Swansea will take the time to sit with customers and discuss colour schemes, fabrics and wall papers as we understand how important it is for you to make the right choice for your home.
Our staff have a wealth of knowledge to share, and they also have the technology available that will help to match colours from samples provided by customers so you can be confident that, out of the thousands of colours, shades and tones available, you can pick the right one for you and your home.
We offer a free delivery service, we have Dulux, Crown and Little Greene mixing machines and we carry a huge range of Farrow & Ball colours and products. We also offer various trading accounts for businesses and most of all we care about all of our customers.
So, we invite you to shop where the professional's shop, meet our friendly staff who can provide expert advice and take advantage of our comprehensive product range and our competitive pricing.
"Very helpful team, great range of products too."
"Great place to go to if like me being a painter and decorater excellent for getting material paint. Go there you won't be disappointed."
"Really helpful and knowledgeable staff, top quality equipment alongside a large range of top quality paints all at reasonable prices, I thoroughly recommend."
"Great service and a good ranges of paint."
"Amazingly helpful with finding the exactly the right paint for my needs. Friendly, attentive service, fantastic new store!"
"Huge variety of paint and paint accessories"