Rabart Decorators Merchants Ltd is a family run business established in 1984.
Our origins lie in the application of paint, when Rupert Alan Bush started a painting and decorating firm called R.A. Bush Decorators in 1954.
30 years later in 1984, Rabart Decorators Merchants Ltd was founded in Merthyr Tydfil by Rupert's sons, Alan and Stuart Bush based on their experience in the paint trade and understanding of what painting contractors needed from a decorator's merchant. With the help of Peter Fear who was appointed as General Manager the business started to develop and grown.
The painting and decorating business closed its doors in 2004, and since then the family has focused solely on further developing the Rabart network, increasing our trade and retail customers, developing, and expanding our branches and training and developing our staff.
We currently operate out of multiple locations in South Wales and South West England with the management team consists of Alan and Stuart's sons, Robert, Andrew and Matthew Bush, alongside Richard Thomas who joined the Senior Management Team in 2019 as the Group Sales and Operations Manager.

Rabart continues to go from strength to strength and we are always looking for new business opportunities to expand, develop and open new branches.
We are proud to remain a family-run business and we want to continue to provide a professional and efficient service to all our customers for many years to come.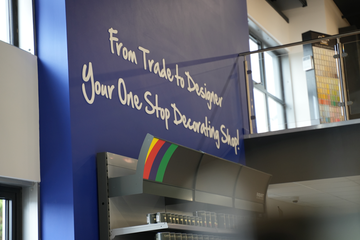 "Excellent and exceptional customer service! I wanted some paint for my garage door, the colour was spot on, just what I envisioned. We were advised of the paint that would be suitable and fit for purpose. We were extremely impressed with the quality and coverage of the paint recommended. Very deserving of 5 stars!!"
"Great store for any decorating supplies my go to store."
"Definitely the best paint supplier that we have visited. Not only are the staff friendly, they certainly know their stuff - in our last visit we were recommended a paint manufactured in Finland which our decorator said it was probably one of the best paint.he had used for some years. Even better this paint was similar in price to the paint you would find in your local
Wickes or B&Q"
"Called in to get some advise and prices on paint , couldn't believe how helpful and knowledgeable the staff were, they were very busy , but still found time to help me choose some colours , will be the only place I buy my paint from in Bath from now on."
"Very helpful and able to give me advice without man-splaining or being patronising. Large range available and able to order anything not in stock.
Not just for trade."
"You will not believe the ranges of paints available in this one place. A serious paint shop for those that need a serious choice for their paint. Helpful staff thrown in."